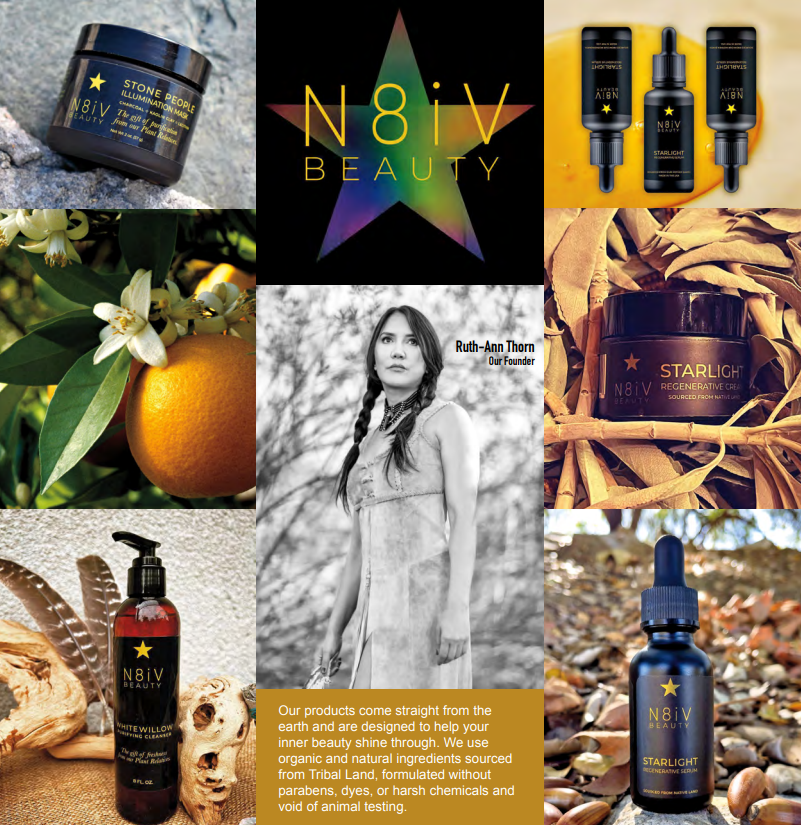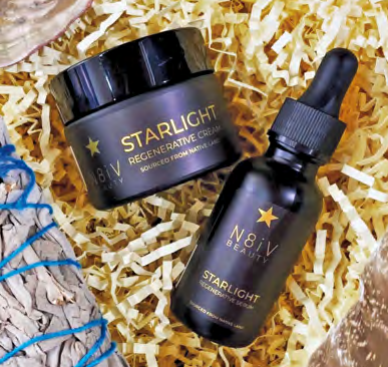 N8iV Beauty recently opened a retail store located on Cedros Avenue Design District in Solana Beach,California. Registered tribal member of the Luiseño/Payómkawichum Tribe and founder, Ruth-Ann Thorn, built her business upon the wisdom of her ancestors. Our Her products offer a holistic understanding that unifies health and beauty.
"We believe that plants are living beings whose powerful extracts promote healing and a balance with nature," Thorn shares, "all the botanicals and natural ingredients used since ancient times create a balance that we need to walk the fullest life." Efforts to make oneself attractive are not limited to the exterior, but rather achieved when one's soul embodies truth.
"Yawaywish (beauty) was celebrated like the stars in the sky—every star is unique and here to shine."N8iV Beauty believes internal resilience is essential to aligning beauty with both heart and mind. "N8iV Beauty is my catalyst for healing empowerment and indigenous restoration," Thorn explains. N8iV Beauty products care for the body as a means of showing gratitude to the soul. If carrying love within yourself, light will cast onto others. This energetic symbiosis reflects an indigenous way of living: "We have always known that our uniqueness and relationship with Mother Earth is what brings strength to our tribe" (Thorn).
Thorn's vision behind N8iV Beauty was further carried by a spirit of activism. N8iV Beauty's retail store sells indigenous-crafted apparel, jewelry, and rejuvenating care products. N8iV Beauty proudly supports native entrepreneurs without access to resources necessary for successful self-promotion.N8iV Beauty supports indigenous exposure and accessibility while maintaining sentiments behind what it means to be Native American. To share is to heal and N8iVBeauty helps create an individual composition for what it means to be and feel, beautiful.
For more information about N8IV Beauty you can get in touch with Ruth-Ann Thorn at:
miiyu@n8ivbeauty.com
www.N8iVBEAUTY.com
(619).895.3027/34500 Valley Center Rd., Valley Center, CA 92082