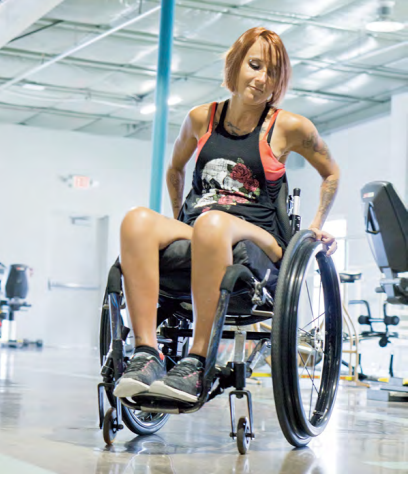 Paraquad's Stephen A. Orthwein Center is emerging as a regional destination for adaptive exercise and lifelong health and wellness for people with disabilities in the Midwest. Modeled after the PEAK Center in Colorado and Beyond Therapy in Atlanta, the Stephen A. Orthwein Center provides a holistic approach to wellness through state-of-the-art equipment, expert staff, and shared experiences. Paraquad has offered health and wellness programming since 2003, but a transformational investment, beginning with the Orthwein family and enthusiastically supported by the community, has taken the program to new heights. Stephen Orthwein, a renowned polo player, sustained a spinal cord injury resulting in paralysis while playing the game he loved. His wife, Ginny, recalls, "One of the most difficult transitions was moving Steve back home. We knew he was making progress from extensive community-based therapy, and we wanted his progress to continue in St. Louis."
Mr. Orthwein passed away in 2018, but his legacy lives on. The Orthwein family envisioned a regional destination in St. Louis for people like Steve to recover from injury or illness after being discharged from rehabilitation. "We knew that Steve would have done it himself and he would be proud to associate his name with a place that welcomes all and provides life-changing therapy," said Ginny Orthwein. In addition to an open gym and group classes, the Center offers one-on-one services with advanced technologies including the Lokomat, a robotic treadmill training system,
and the EKSO exoskeleton, a robotic device that provides help with standing and walking. All services are complemented by natural interactions with peers. Newly disabled members often learn from others who have lived with a disability much longer. "In addition to being a great place to increase independence through exercise, the Orthwein Center provides a unique setting where people with disabilities can share their knowledge and support each another," said Aimee Wehmeier, Paraquad President. Paraquad is a leading provider of disability services in St. Louis since 1970. The Orthwein Center connects members to more than 20 programs that support equity and independence, serving people of all ages and with all types of disabilities. To learn more, visit paraquad.org or orthweincenter.org.