A search for a significant other is an interplay between taking action and surrendering to something beyond yourself – something that could be called "fate."
This is why, to me, as a professional matchmaker, despite that dates can feel uncomfortable, disappointing, or even despairing, they are never really "bad." When a person goes on a date they send out a karmic signal that they are doing their part of the destiny dance. Many people view dates that don't lead to a relationship as getting worn down by the quest, but I see them as a form of slipping coins into one's own empowerment bank! Each date affirms the inner vitality and dynamic of one's personal development.
A truly enlightened dater must learn to master the desire to control the date's outcome and instead use the experience to interact with another face of humanity and refine their personal sense of belonging in the world. Every date is as well as an opportunity to practice making space for the authentic presence of others and ourselves.
The great spiritual teacher Dr. Wayne Dyer said, "When you change the way you look at things, the things you look at change." Sometimes the key to the change we need in our matters of the heart is smack-dab in our own powers of perception. And bingo, we often increase the effectiveness of our goal when we merely adjust our own focus.
I see my work as a professional matchmaker not just in providing the opportunity to meet highly compatible prospects for life-partners, but also in aiding my clients in becoming unstuck from hidden narratives and assumptions that have blocked possibilities for connection. I take a holistic approach that's supportive yet may require gentle challenges to gain growth. My hope is always, ultimately, to get people into a fulfilling relationships. Yet, I've witnessed tremendous value in raising someone's self-awareness, increasing someone's equanimity around their current single status, and providing a unique process of personal discovery.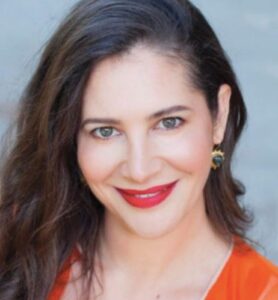 People work with me in two ways. One is simply to enter my free, private database which you can do at keeperintros.com, and I can submit you for clients, both my own and those of other matchmakers with whom I collaborate. The other is to get on my exclusive client list, in which case it's best to email me at gaby@keeperintros.com to discuss. If I'm not able to take you myself I might also know the right matchmaker who can and can help facilitate the contact. Though matchmakers from different firms keep their own client lists, we are a very collaborative profession!
Over the now 7 years I've done this full-time, I have gotten many clients married, for which I feel very honored. A joyful couple levels up the happiness of the whole world. But I'm also honored that so many extraordinarily luminous souls turn to me for guidance in their journey for life's richest treasure – love.