No Churn Strawberry Ice Cream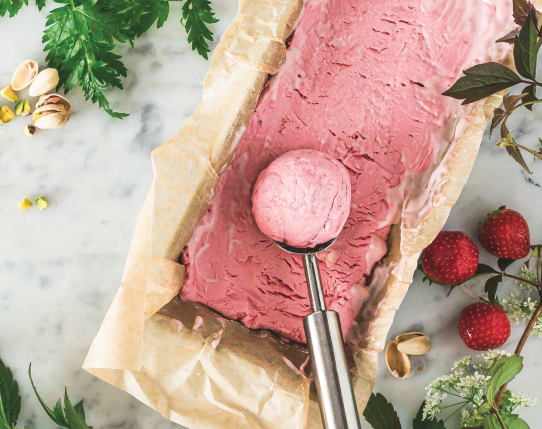 Ingredients:
2 cups strawberries, hulled and sliced in half
1 tbsp cornstarch
⅓ cup sugar
½ tbsp lemon juice
14 oz can sweetened condensed milk
2 tsp vanilla extract
¼ tsp sea salt
2 cups heavy cream, cold
Directions:
Place strawberries in a large skillet, away from the stove, and mash with a fork or masher until a thick, slightly chunky consistency is formed. Add the corn starch and sugar to the mashed berries. Mix together then move the skillet to the stovetop. Heat mixture over medium heat. When it begins to bubble, reduce the heat slightly and allow berries to cook down to a thick consistency, about 5-7 minutes. Remove the mixture from the heat and add the lemon juice. Place the mixture in the refrigerator to cool while preparing the ice cream base. In a medium bowl, combine the sweetened condensed milk, vanilla extract and sea salt. Whip the heavy cream with a stand mixer or electric hand mixer on medium-high speed until firm peaks form, about 3 minutes. Fold the condensed milk mixture into the whipped cream with a rubber spatula until combined. Gently fold in the cooked, cooled strawberries.* Pour into a 2-quart container. Cover with plastic wrap and place in the freezer for at least 5 hours, or overnight.
Notes:
This recipe makes approximately 1/2 gallon of ice cream. Metal containers freeze faster, but a glass or plastic container will also work. Any pan that holds 2 quarts will work just fine! For strawberry ice cream that's bright pink in color just add 1-2 drops of red food coloring into the ice cream with the strawberries. You can use frozen strawberries. You'll want to immediately
add them to a skillet over medium heat to allow them to defrost, then mash them. You can then follow the recipe as instructed, adding the sugar and cornstarch, then cooking down the strawberries. *If you prefer a strawberry ice cream without chunks, simply puree the cooked strawberry mixture in a blender or food processor before folding it into the ice cream. The ice cream can be stored in the freezer for months in an airtight container to prevent freezer burn.
Recipe courtesy of Whitney Bond:
whitneybond.com/strawberry-ice-cream/