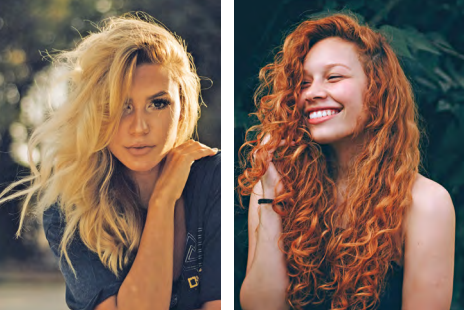 HAPPY IS RIGHT! Happy to be free from the shackles of our societal pressures. You know the ones that have hung over us like a dark cloud for the past two years or so. The pressures of what is functional. Do I really need to color my hair? The pressure to keep it practical. Only celebrities can maintain extensions and fabulous hair. RIGHT. Do not forget we have to be safe. No, we do not. Well guess what? Who cares what is functional when it comes to fashion? Does it really matter if it's practical all the time? If it is a safe choice, it is boring and you are still shackled. Chop your hair short! Get extensions even if you're over 40. Only your grandma cares about you having short hair. My Friend, it is time to break free and embrace your inner style with no judgment. In the spring fashion, you will see bright colors and bold layered statements in clothes as well as in hair. We played it safe with blunt lines and simple solid cuts for fall. We carried on the center part (still here), curtain bangs (still here), and flirty face framing. Now it is time to say goodbye to a solid bob and uplift it with layers and volume. It is no mom bob and it is not about function. It's about the sass!
Next is our ever so comfortable side part rocking a strong comeback with tones of volume and an exaggerated flip from the late 80s and early 90s. Last, but certainly not least, is my favorite by far: The BIG Blowout! Think early 90s Claudia Schiffer and Cindy Crawford. No matter what style you choose remember to keep your hair moisturized on the ends and volumized at the roots. My favorite products to achieve these looks are Shu Uemura Muroto Volume for amazing volume from the roots to the ends, Shu Uemura Essence Absolue Nourishing Oil for the ends, and to finish it all off L'Oreal Professionnel TechniArt Next Day Hair! To welcome Spring here is a gift for you. A FREE haircut with the purchase of a color service by yours truly @suzannespurgeonhair. All you need to do is mention Mind Body Soul Magazine as a referral when you call to book with Suzanne at Studio Branca, 314-469-1222. We hope to see you soon!
Get Sassy, Get Happy!