Tomato Mushroom Soup
Prep: 10 min. Cook: 45 min.
Makes about 12 servings (3 quarts)
1 pound sliced fresh mushrooms                      8 cups beef broth
6 tablespoons butter, divided                             2 medium tomatoes, peeled, seeded and chopped
2 medium onions, finely chopped                     1 can (15 ounces) tomato sauce
1 garlic clove, minced                                               1 teaspoon salt
2 medium carrots, chopped                                 1/2 teaspoon pepper
3 celery ribs, finely chopped                                3 tablespoons minced fresh parsley
3 tablespoons all-purpose flour                         Sour cream, optional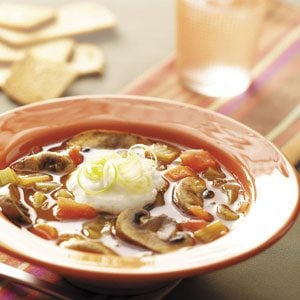 In a large kettle or Dutch oven, saute mushrooms in 4 tablespoons of butter until tender. Remove mushrooms with a slotted spoon; set aside and keep warm.
In the same kettle, saute the onions, garlic, carrots and celery in the remaining butter until tender. Stir in flour until blended.
Add the broth, tomatoes, tomato sauce, salt, pepper and half of the reserved mushrooms. Cover and simmer for 30 minutes.
Stir in the parsley and remaining mushrooms; simmer, uncovered, for 5 minutes or until heated through. Garnish with sour cream if desired.
Prep: 10 min. Cook: 45 min.
Makes about 12 servings (3 quarts)
https://www.tasteofhome.com/recipes/tomato-mushroom-soup/
Courtesy of Bonnie Hawkins, Elkhorn, Wisconsin