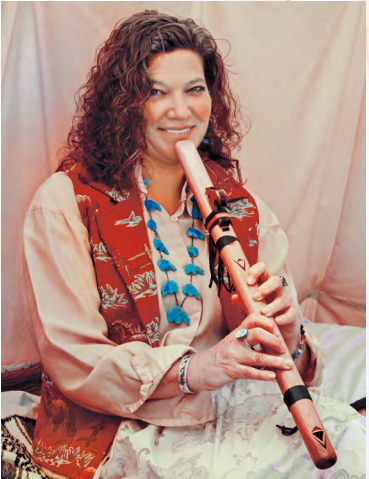 Do you need a building or a land clearing? Large groups of people can be filled with un-useful energies. We know a wonderful person who can channel the deep spiritual messages within groups to help transform the group dynamics into something more useful. Meet Dr. Angelique Fowler. She loves providing events for clearing group dynamics, and finds it remarkable how the group shifts are transformational for each individual involved.
Watch her set up crystal grids to clean, clear and heal quicker than Flash Gordon!
Angelique is a 12th generation Usui Tibetan Facilitator and a member of Dr. Mikao Usui's line. She is a Reiki Master/Teacher practicing an updated version called 5D. Her Reiki practice fuses traditional Usui with meditation techniques, hand mudras, ancient universal symbols/frequencies, crystology and nature-based cycles.
She sees spirits and angels and can talk to other realms just as easily as she can talk to humans. Her daily personal practice, including Kundalini yoga Kriyas with advanced Pranayama techniques, allows her to deep dive into 8-hour meditation sessions. She has also received Guru's attunement from a Hindu Swami. She is a trained Kriyaban Yogini via Self Realization Fellowship (SRF) USA. Her meditation mantra is: To Help, To Heal, To Enlighten – Everyone.
Also, as an ordained Universalist Doctor of Theology, Angelique's universal messaging power lends her a natural, soul-given ability to help others grow. Another superpower is her ability to design custom-nature-based ceremonies for your special life events.
Out of a burning passion to further heal herself and others, Angelique founded Wake Up! Reiki Life Transformation Center in 2008. She writes, teaches classes and holds seminars, with collegiate-level-metaphysicaltraining classes available upon request. The essential-oil-chemistry classes she's created, and the deep practice on herself, others, and family have helped overcome major body, mind and spiritual challenges. She enjoys watching all earthbound brothers and sisters grow and blossom into their fullest potential.
Stay in touch with Angelique at:
http://www.wakeupreiki.com
970-402-1481/17778 Highway 82, #C, Carbondale,