"It's good for the Mind, Body and Soul."
It all started in 2018. Kim Dumas took some of her closest friends for a sunset
sail on San Diego Bay. Something amazing happened that night; laughter,
good food and drinks, singing, yoga poses on the bow, and a surreal sunset
became the inspiration to start a women's sailing group in San Diego.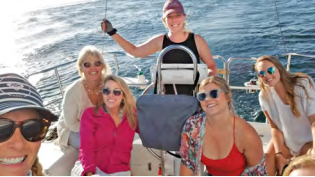 Kim sprung into action and created a website and a Facebook group where she could share sailing events and opportunities for women in the San Diego area. Over the past 3 years, she has organized a variety of events which have helped get women out sailing: countless sunset sails, day sails, catamaran charters, racing clinics, Knotty Girl Happy Hours, a 5-Day Girls' Getaway in the Sea of Cortez, and a hands-on sail on one of the America's Cup boats from 1992.
Sailing has predominately been a man's sport, but according to the ASA (American Sailing Association), one-third of their new students are women. (https://asa.com/women-on-water/) More and more women are joining and taking classes and some ultimately purchase a sailboat of their own. Luckily for them, Kim is ready to help them with that dream. Kim is a yacht broker for Denison Yacht Sales and owns her own 30' sailboat which she sails often.
Kim's business partner, Kurt Jerman, owns West Coast Multihulls, a catamaran charter company and ASA sailing school with locations in San Diego, CA, Loreto and La Paz, Mexico, in the Sea of Cortez. Thousands of students have taken the classes at WCM over the past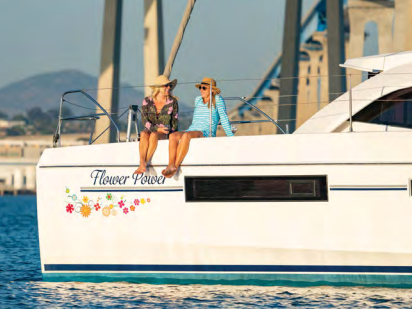 10 years and a good number of them have purchased their own cat. Some are looking to purchase for their personal use while others purchase with the intention of putting it into the WCM charter fleet to offset the costs of boat ownership. Why do people love sailing catamarans? Just search YouTube for the many adventurous cruising couples and families sailing the world on their cats. It's a whole lifestyle. It's fun. It's adventurous. It's relaxing. It's educational and it requires teamwork. It's good for the Mind, Body and Soul.
Enter Guinevere King, Kim's partner in fun, sailing and business. In fact, Guinevere was on the boat that night when the San Diego Women's Group was inspired. She joined West Coast Multihull's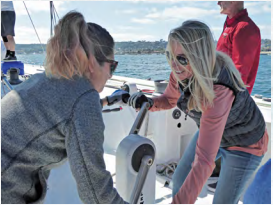 team 2 years ago and is now the General Manager and Director of Sales and Marketing. More Women's Sailing Charters and events are on the horizon in San Diego and the Sea of Cortez. Check their websites and Facebook pages for updates to plan and sign up for your next sailing adventure with Kim and Guinevere. If you plan on buying, visit Kim at Denison Yacht Sales.
Kim Dumas
www.SanDiegoWomenSailing.com
Guinevere King
www.charter-catamaran.com