Natural skincare formulated with whole plant essences.
A fateful hike in the natural beauty of Zion National Park in 2017 inspired two sisters to create a new kind of skin care company. "We were walking through this incredible landscape and up to our knees in crystal clear water knowing that it was being contaminated with carbon-based sunscreens from all the hikers," says Vicki Summers, co-founder. After a spirited conversation later with her sister, April Bednarski, who holds a PhD in Medicinal Chemistry, Avaisn was born. "Our vision is to create products that use sustainably-sourced plant and mineral-based ingredients," explains April. "I formulate our products to be food safe – that way you can apply our sunscreen or hand lotion and then turn around and make a snack for your kids and not have to worry." The first product April created, ReCover lotion,. is still a customer favorite. A unique blend of shea butter, Arnica montana, aloe, CBD oil and lavender, ReCover is perfect for soothing tired skin. ReCover joins more than a dozen plant-based products at www.avaisn.com – including their new line of products for the face. "We want everyone to feel great in the skin they are in," says April.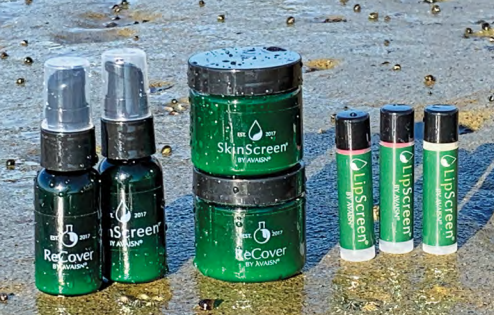 "I use ReCover every day. It is the reason my cuticles no longer get dry in the winter!" — T. C
ReCover Skin Cream
Formulated to provide intense shea-based moisture and natural, plant-based healing ingredients for dry or weathered skin, sore muscles, and bruises. Ingredients include shea, vitamin C, arnica oil, hyaluronic acid and aloe vera. Ingredients: water, glycerin, shea butter, cetaryl alcohol, stevia, coconut oil, arnica oil, vitamin E, lavender essential oil, vitamin C, hyaluronic acid, ascorbic acid, CBD oil, patchouli, vanilla oleoresin, orange essential oil, titanium oxide.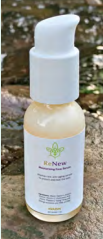 LipScreen Lip Balm
This natural lip balm is filled with shea-based moisturizers and non-carbonbased sunscreens to protect lips from the sun. Carbon-based sunscreens have been proven to be unsafe when ingested at high amounts, which is why we created LipScreen. Colored with natural mica and scented with plant essences, our LipScreen balms look and feel great while also protecting the delicate skin of the lips safely. Choose Clear Peppermint, Rosy Grapefruit or Burnt Ginger. Ingredients: coconut oil, beeswax, shea butter, vitamin E, essential oil, zinc oxide.
"I've looked for natural sunscreens in lip balms, but they are nearly impossible to find. LipScreens are perfect and the light tint is just enough color for me." — S. O.
ReNew Moisturizing Face Serum
A unique blend of Vitamin C, Vitamin E, and Hyaluronic acid, our face serum is 98% oil free. Vitamin C and E work together to boost collagen. Hyaluronic acid has anti-aging and moisturizing properties. Use it at night to treat fine lines and wrinkles while you sleep! Ingredients: Water, glycerin, cetyl alcohol, vitamin C, hyaluronic acid, stevia, ylang ylang, and orange essential oils (98% oil free).
"The WakeUp eye cream helps shrink my puffy eyes each morning – and I love the smell of ylang ylang." — L. S.
Shop now and Contact Victoria Summers at:
www.avaisn.com
v@avaisn.com
INSTAGRAM: @avaisn2018
515-953-9765